INTEC proudly introduces the Car Vision® CVD650LCD-A High Performance Color Display!
Utilizing all state-of-the-art electronics, the CVD650LCD-A displays a crisp and vibrant image from up to 5 cameras. Designed and manufactured specifically for heavy duty vehicular applications, our newest display incorporates a high resolution digital LCD panel which triples the pixel count and a LED backlight for greatly improved brightness and a wider viewing angle. We have also improved the software in the CVD650LCD-A for user-friendly operation. With a Certified IP68 rating and FIVE YEAR warranty, you can be sure this display will give you the many years of reliable service you expect from INTEC.
Don't compromise the safety of your fleet! Insist on the INTEC Car Vision® CVD650LCD-A. To learn more, please click here or call our Sales team at 800-468-3254 or 800-522-5989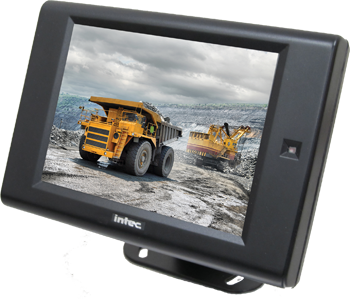 ---
"Quality First for Performance that Lasts..."
At INTEC, being the best in our business does not come easily. It is earned by understanding our customers' needs and by consistently providing products and services that exceed their expectations. Quality considerations are equal to all others in our decision making and we are committed to exceeding our customer's expectations with the quality of the products and services we provide.
As a leading manufacturer of critical video systems and components for some of the world's largest companies, INTEC continues to set the industry standard for blind area elimination and accident prevention.
Since introducing the first rear vision camera for commercial vehicles in the U.S. market, INTEC has pioneered the trade for nearly half a century. In fact, industry experts like (MSHA) Mine Safety and Health Administration recommend video safety cameras for the ability to prevent, detect, and respond to unseen obstacles, which are inherent to operating over-sized machinery and mining vehicles.
We consider it a privilege to provide our customers in the Automotive, Aerospace, Defense, Construction, Delivery, Emergency Response, Fire and Rescue, Mining, Transportation, Rail, Refuse, and many other industries with unparalleled, reliable, cost-effective solutions.
INTEC is the gold standard by which all other video manufacturers are measured. Through science and innovation, INTEC Video Systems will help keep you and your vehicle safely on the road, even in the most demanding application.
---
Car Vision® Celebrates 40 Years
In 1978, INTEC introduced Car Vision®, an advancement in CCTV technology to provide an extra margin of safety to operators of large vehicles by eliminating blind spots. INTEC now provides a product line of over 30 cameras and monitors, in black & white and color. The originator of rear vision, INTEC has remained on the cutting edge of innovation by constantly developing and improving our safety camera systems using the latest in electronics technology.
Industry Spotlight - Refuse Collection
Maneuvering large garbage trucks in difficult spaces and places can be extremely hazardous. Pulling out from residential and city curbs and monitoring what's being collected add to the every-stop demands placed on the driver. With the use of video cameras, drivers can eliminate blind spots and be watchful of the surroundings, workers, pedestrians, and impatient commuters who may not be paying attention.
Learn More...
Safety Spotlight
"According to the NHTSA, every year in the US there are an average of 210 fatalities and 15,000 injuries caused by a vehicle backing over someone. Children under five account for 31 percent of fatalities, with adults over 70 accounting for 26 percent. The efficacy of rear view cameras in reducing the risk of such accidents has long been recognized, and many auto manufacturers have already made such technology standard equipment on many models".
Read More...
"In terms of longitudinal distance, advocacy groups such as the Advocates, KidsAndCars.org, and the Consumers Union recommended that any "gaps" between the rear coverage zone and the vehicle's rear bumper should be eliminated."
Nobody delivers more viewing area than INTEC.
Learn More...