CVS100M-A - Single Camera Controller
INTEC's CVS100M-A has been designed to meet the challenges of today's installation requirements. With heavy duty injection cast aluminum alloy cases and stainless steel mounting plates. The CVS100M-A, when combined with a CVD series display, is backwards compatible and can replace most CVM Series monitors.
The combination of smart fuse and load dump circuitry protects critical components, even in the event of cable damage, while the back lit remote control buttons allow for easy visibility at night.
External video and audio out allows you to record critical information or display it on an additional screen, while the integrated active radar component adds an extra margin of safety.
INTEC offers the most durable, most reliable products in the industry. Our products are backed by unparalleled warranties and a dedicated engineering and sales team ready to solve your vehicle safety camera requirements.
---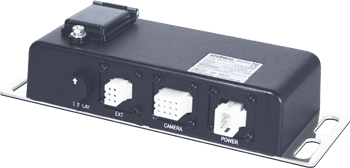 Specifications
Power Requirement
+12 / +24 VDC
Power Consumption (1 Cam)
SB - 1.5 Watts
ON - 10 Watts
Shock & Vibration
9G @ 2000 cpm
Operating Temp
-22° to +158° F
Weight
1.5 lbs.
Dimensions W x H x D
8.27" x 1.95" x 3.36"
Color
Black
Warranty
Five Years Parts & Labor
Options
Video I/O Harness
Compatibility
CVS Series Displays, CVC Series Cameras
(some may require an adapter)