Fire & Rescue
Solution: A high performance INTEC camera system being used in conjunction with the mirrors on a vehicle allows the operator to see what's going on behind and beside them so they can safely maneuver their apparatus. INTEC never compromises on the quality of its video safety systems; the cost is just too high to ignore the potential dangers of not seeing what's going on around or behind the apparatus. Investing in the right camera system that features heavy duty construction and a wide field of view will ensure the safety of everyone in the vicinity of the apparatus - all the time. Our systems are the highest performing and the longest lasting!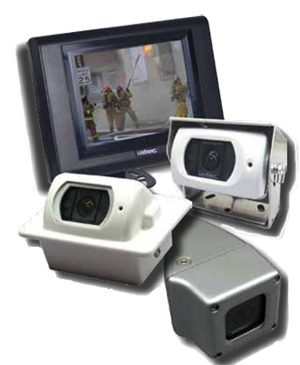 The INTEC Advantage
Quality At INTEC, we follow a simple but proven philosophy. Build a quality product and you will get reliable performance that lasts.
Value Some purchasing decisions are based on cost. Smart money opts for value. Don't compromise the safety of your fleet! Invest in a system that you can depend on - day in and day out - for as long as you own your vehicle.
Commitment For over 35 Years, our interest to improve vehicle safety through advanced video technology has been proven and demonstrates not only our experience and longevity but also our commitment to our customers who benefit from it. With unmatched customer service and support, we'll be here for you.
We recommend the CVC500AH Series color cameras and the CVD650LCD 6.5" color display. The cameras can be ordered with a bracket or flush mount while the display can be mounted on dash, in dash or overhead.
In addition to our safety camera systems INTEC offers the Video Sentinel product line. Video Sentinel is a fully remote pan and tilt scene surveillance system, ideal for aerial apparatus and command vehicles. The Sentinel features a color zoom camera coupled with a thermal imaging camera. Learn more...
INTEC products are backed by unparalleled warranties and a dedicated engineering and sales team ready to solve your vehicle safety camera requirements. We Invite you to see for yourself... and experience the INTEC Advantage!
For additional information call (west) 800.468.3254 or (east) 800.522.5989 or E-mail us at info@intecvideo.com